News from Goldsmiths
Award-winning author Michael Rosen joins Goldsmiths
Published: 04 November 2013 09:00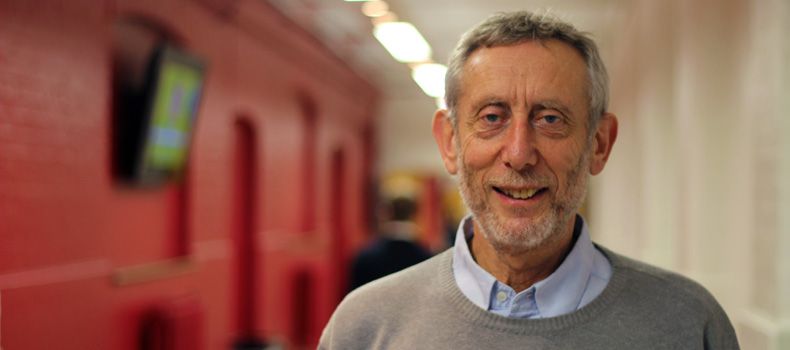 Award-winning children's author and poet Michael Rosen is to play a leading role in an innovative new course on children's literature at Goldsmiths, University of London.

Rosen, who is taking up a professorship in the University's Department of Educational Studies, will develop a new practical and theoretical MA in Children's Literature to start in September 2014.

The author of more than 140 books and the fifth British Children's Laureate said he was looking forward to joining Goldsmiths.

He added: "I'm very excited about the idea of developing an MA in Children's Literature at Goldsmiths, especially as there's a huge appetite for it in inner London. We have potentially a huge number of people who want to study this fascinating subject.

"There are so many interesting elements to Children's Literature that perhaps aren't obvious; psychological and anthropological elements for example. Children's Literature is essentially a human practice, it's part of how we initiate our children into life, but also how we begin to shape how they think about question what they are doing."

Rosen's appointment at Goldsmiths has a personal element to it. He will be following in his mother's footsteps as she taught in the same department from 1963-1966.

"Goldsmiths has been on my radar for a long time. My mother taught there in the 60s at a time when Goldsmiths was becoming an incredibly prominent Higher Education institution.

"I remember coming to Goldsmiths to see students' work at events my mother had organised - it has always been a place close to my heart."

The MA will be a collaboration between the Department of Educational Studies and the Department of English and Comparative Literature. Students will take core modules in the Department of Educational Studies, including one led by Rosen, and will be able to take options from both departments.

Patrick Loughrey, Warden of Goldsmiths, commented: "Goldsmiths has a proud literary tradition, with Ross Raisin, Evie Wyld and Hisham Matar among our alumni. Michael's appointment builds on this strong tradition and we're looking forward to him passing on his experience and expertise to students who choose to take this innovative programme."
---
Notes to Editors
Contact the Press Office for a hi-res image of Michael Rosen.

To find out more about the MA in Children's Literature, including details on how to apply, visit our website.
For further information
Peter Austin
Press & PR Manager
Goldsmiths, University of London
New Cross, London SE14 6NW

tel: +44 (0)20 7919 7909
mob: +44 (0)7753309095
email: p.austin@gold.ac.uk